Snow Removal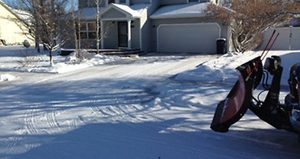 As winter approaches, it's time again to consider the safety of person and property from the very real threat of snow caused injury, potential for personal injury, and property damage. Understandably, the more snow falls that occur on top of already fallen snow, the bigger the threat and labor involved in the snow removal. This makes it vitally necessary to continuously engage in snow removal efforts after every snowfall throughout the winter months. When heavier snow falls happen with greater frequency, property owners can (and do) get overwhelmed with the time and labor involved in snow removal. For this reason, many savvy home owners contract snow removal services from professionals on an 'as needed' or continual 'running' basis throughout the snow season.
Snow Removal Helps Ensure Safety and Security
Snow removal efforts are the responsibility of the home owners. This responsibility also extends to the sidewalks bordering the property. Whether it's a private residence, rental, or leased property; the task of snow removal from the sidewalks is the responsibility of the property owner. This is important to consider due to the fact that the safety of others using sidewalks bordering homes is dependent on the property owner's efforts to keep these sidewalks clear of snow.
Snow removal is a commonly required service. Many homeowners own large properties, and lots in which snow removal is a far greater task than it is for other properties. Many people of advanced age, or those with certain physical impairments, simply can't take the risks involved with snow removal, or don't have the strength or ability to do it in the first place. Touchdown Lawn Service is here to help. Give us a call today for a Free Estimate.