Landscaping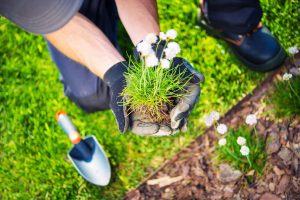 There are many reasons why home owners would want to invest in landscape their lawns. The most obvious reason is that a quality landscape makes any property look great, making everyone feel more at home. A well-developed and maintained landscape is also a good way of increasing the property value of your home. Another common factor for why people choose to remodel their property's landscape is that it has deteriorated or become damaged in some way. Over time, any property is going to run into problems and require an update of some kind. Your property's landscape is always growing and changing, and eventually the structures that have made it strong and stable will begin to break down.
Restoring Your Landscape to Its Full Potential
Our technicians know how to bring these structures back to their full potential, or replace them entirely with new and more efficient designs. If you have been considering upgrading your landscape and have found yourself in a position to do so, then our professional landscape services will not let you down. Our technicians are experienced and well-trained in landscaping services. When it comes to landscape remodeling, we know how to work with your property's unique location, style, and design, making remodels that best enhance your property. We work with your lawn in a way that compliments your home, adding to the beauty and value of both.
Quick and Efficient Landscaping that Delivers Quality Results
Our technicians also know how to plant bushes, and flowers so as to ensure their maximum health and beauty. We can also set plants along walkways or retaining walls in order to soften their edges and give them more beauty and character, as well as remodel your garden and flower beds in ways that will give them greater definition and contrast them with the rest of your yard. We work quickly and efficiently to get the job done correctly the first time, and work with you all along the way to ensure that you are getting the results you have in mind. With so much experience communicating with our customers to create beautiful new landscapes, we guarantee quality service and results.